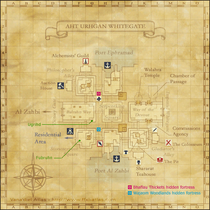 Protected by tall ramparts, the impregnable fortress city of Al Zahbi serves as the capital of the western half of the vast Empire of Aht Urhgan. The city resembles a labyrinth, with the roofs of stone buildings joining to form paths around structures built on a higher level. The serpentine designs seen throughout the city represent the two-headed snake king Zahak, a symbol of the Empire. This section of the city is the Merchant's Ward. This diverse ward is home to merchants and craftsmen who provide their services to the area's throngs of traders, mercenaries, and adventurers from foreign lands. The district also features two ports, one facing the inland sea to the north and another facing the open sea to the south. The Merchant's Ward also serves as a western gate to the Empire.

This area is only accessible if the Treasures of Aht Urhgan expansion is installed and The Road to Aht Urhgan quest is completed.
Connecting Areas
If you see a quest that is listed as Yes but is not working properly please report it on GitHub. Make sure to list as many details as possible when describing what is not working. If there happens to already be a report on that quest regarding your problem, just add your experience to that report.
Legend
Yes = Quest is in game and working
Yes but bugged = Quest is in game but not working properly and being worked on or in que to be worked on.
No = Not in game yet but is planned
Involved in Quests/Missions
NPCs Found Here