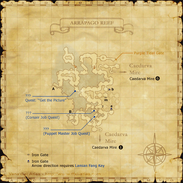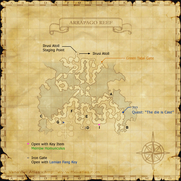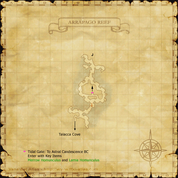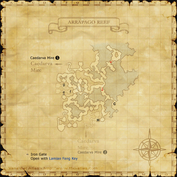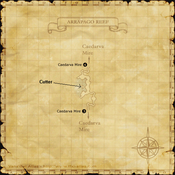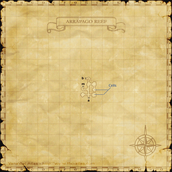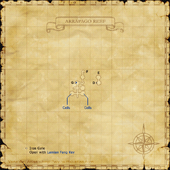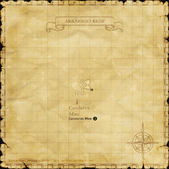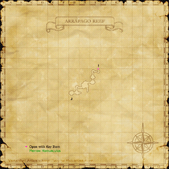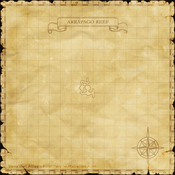 This highly treacherous area is legendary for stranding many a ship. It is for this reason that the Arrapago Reef became the final bastion for a kingdom that was destroyed by an attack from Aht Urhgan. It is said that the kingdom's immense
treasures still rest in the coastal caverns. However, the Lamiae are currently using the reef as their stronghold, guarded by the sleepless undead. Infiltrating the Arrapago Reef would be no easy task.

This area is only accessible if the Treasures of Aht Urhgan expansion is installed and The Road to Aht Urhgan quest is completed.
Connecting Areas
Caedarva Mire at ( - )
Ilrusi Atoll at Map 2: (F-5)
If you see a quest that is listed as Yes but is not working properly please report it on GitHub. Make sure to list as many details as possible when describing what is not working. If there happens to already be a report on that quest regarding your problem, just add your experience to that report.
Legend
Yes = Quest is in game and working
Yes but bugged = Quest is in game but not working properly and being worked on or in que to be worked on.
No = Not in game yet but is planned
Involved in Quests/Missions
Name
Level
Drops
Steal
Family
Spawns
Notes
Bloody Bones

Unknown
Blackjack
Ace's Locket
Skeletons
1

Merrow No.5

Unknown

Volunteer's Nails

Lamiae
1
A, L, T(S), BRD

Lamie No.7

Unknown
Corsair's Scimitar
Lamiae
A, L, T(S), COR

Lamie No.8

Unknown

Mercenary's Turban

Lamiae
A, L, T(S), RNG

Lamie No.9

Unknown

Evoker's Gages

Lamiae
A, L, T(S), SMN

Lamia No.19

78

Exorcist Hose




Templar Mace

Lamiae
1
BLM

Lamia's Skeleton

Unknown
Lamiae
2

A, L, T(S)
Assists:

Lamia No.19

Medusa

Unknown

Medusa's Armlet

Lamiae
1
Assisted by:

Lamia Exon

Lamia Exon

Unknown
Lamiae
4

A, L, T(S)
Assist:Medusa
Bukki

70
Imps
1
The Die Is Cast Quest
Giant Orobon

Unknown
Orobon
Fishing
A, H
Ornery Orobon

Unknown
Orobon
1
The Art of War Quest

Lamia Palace Guard

Unknown
Lamiae
16
Archaic Mirror Guardians
A, L, S

Lamia No.11

80 - 85
Lamiae
1
A, L, T(S)
Astral Candescence Recovery

Lamia No.18

80 - 85
Lamiae
1
A, L, T(S)
Astral Candescence Recovery

Lamia No.24

80 - 85
Lamiae
1
A, L, T(S)
Astral Candescence Recovery
A = Aggressive; NA = Non-Aggresive; L = Links; S = Detects by Sight; H = Detects by Sound;
HP = Detects Low HP; M = Detects Magic; Sc = Follows by Scent; T(S) = True-sight; T(H) = True-hearing
JA = Detects job abilities; WS = Detects weaponskills; Z(D) = Asleep in Daytime; Z(N) = Asleep at Nighttime
Mobs Found Here
Name
Level
Drops
Steal
Family
Spawns
Notes
Arrapago Apkallu

70 - 72
Apkallu
25
Arrapago Leech

73 - 74
Leeches
L, H
Ashakku

71 - 74
Leeches
5
Bhoot

80 - 82
Ghosts
3
A, H, HP
Chimera Clot

75 - 76
Clots
Fishing
A, H
Dark Elemental

80
Elementals
4
A, M
Draugar Servant

79 - 81
Skeletons
36
A, H, HP
Draugar's Wyvern

68 - 74
Wyverns
10
Emperor Apkallu

81 - 83
Apkallu
14
Ephramadian Shade

68 - 70
Fomors
8
A, H, HP
Fallen Imperial Trooper

72 - 74
Fomors
11
A, H, HP
Fallen Imperial Wizard

72 - 74
Fomors
9
A, H, HP
Fallen Volunteer

71 - 73
Fomors
10
A, H, HP
Heraldic Imp

72 - 74
Imps
9
A, L, T(S)
Ice Elemental

80
Elementals
5
A, M
Jnun

77 - 80
Doomed
22
A, H, HP
Lahama

77 - 79
Sea Monks
A, H
Lahama

76 - 77
Sea Monks
Fishing
A, H
Lamia Bellydancer

81 - 83
Lamiae
1
A, L, S

Lamia Dancer

73 - 75
Lamiae
2
A, L, S
Lamia Dartist

73 - 75
Lamiae
2
A, L, S
Lamia Deathdancer

73 - 75
Lamiae
1
A, L, S
Lamia Fatedealer

73 - 75
Lamiae
3
A, L, S
Lamia Graverobber

Unknown
Lamiae
3
A, L, S
Lamia Idolater

80 - 82
Qutrub
24
A, L, S
Lamia Necromancer

81 - 83
Lamiae
1
A, L, S
Lamia Toxophilite

77 - 80
Lamiae
2
A, L, S

Lamia's Elemental

Unknown
Elementals
5
Lamie Bellydancer

81 - 83
Lamiae
2
A, L, S
Lamie Deathdancer

77 - 80
Lamiae
1
A, L, S

Lamie Necromancer

Unknown
Lamiae
3
A, L, S
Lamie Toxophilite

Unknown
Lamiae
2
A, L, S
Llamhigyn Y Dwr

76 - 78
Doomed
Fishing
A, H, HP
Merrow Bladedancer

81 - 83

Merrows

2
A, L, S
Merrow Chantress

73 - 75

Merrows

9
A, L, S
Merrow Icedancer

73 - 75

Merrows

4
A, L, S
Merrow Kabukidancer

73 - 75

Merrows

3
A, L, S
Merrow Shadowdancer

73 - 75

Merrows

5
A, L, S
Merrow Songstress

81 - 83

Merrows

3
A, L, S
Merrow Typhoondancer

81 - 83

Merrows

3
A, L, S
Merrow Wavedancer

81 - 83

Merrows

3
A, L, S
Nipper

72 - 73
Crabs
17
A, H
Nix Bladedancer

81 - 83

Merrows

1
A, L, T(S)
Nix Songstress

81 - 83

Merrows

2
A, L, T(S)
Nix Typhoondancer

81 - 83

Merrows

2
A, L, T(S)
Nix Wavedancer

81 - 83

Merrows

1
A, L, T(S)
Phasma

73 - 74
Ghosts
10
A, H, HP
Purgatory Bat

72 - 73
Giant Bats
9
A, L, H
Qiqirn Trailer

77
Qiqirn
1
L, S
Qiqirn Treasure Hunter

77
Qiqirn
1
L, S
Qutrub

73 - 74
Qutrub
23
A, H, HP
Reserve Draugar

72 - 73
Skeletons
41
A, H, HP
Seneschal Imp

77 - 78
Imps
4
A, L, T(S)
Soulflayer

82 - 83
Soulflayer Robe
Soulflayer Staff
Soulflayer Tentacle
Soulflayers
10
A, L, T(S), T(H), M
Wootzshell

72 - 73
Crabs
1
A, H
A = Aggressive; NA = Non-Aggresive; L = Links; S = Detects by Sight; H = Detects by Sound;
HP = Detects Low HP; M = Detects Magic; Sc = Follows by Scent; T(S) = True-sight; T(H) = True-hearing
JA = Detects job abilities; WS = Detects weaponskills; Z(D) = Asleep in Daytime; Z(N) = Asleep at Nighttime