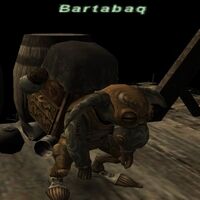 Bartabaq
Notes
Appears, when Movalpolos is under weekly conquest-control by one of the three nations. - "Welkome to my vorder shop!" - "Kome vack again sometime!"
Bartabaq is not a typical Outpost Vendor. She only sells items, which normally are sold by Regional Vendors of Movalpolos. The prices are dependent on the current Allegiance Rank.
All items, which Standard Merchants normally buy, can be traded by all characters for regional influence points. The points are awarded to the trader's
For further information see Outpost Vendor.
Sells:
  Prices belong to the rank at your current nation:
Community content is available under
CC-BY-SA
unless otherwise noted.