Description
While no active mining is actually done in Bastok Mines anymore, it does still provide access to Zeruhn Mines which still has active mining areas. While the Mines district is home to a variety of stores, some of which cater to the miners, the district is also home to the Alchemists' Guild and the southern Auction House. Adventurers should also note that the Mines district is home to the Bastok Chocobo stables.

Connecting Areas
Bastok Markets at (F - 5)
South Gustaberg at (H - 10)
Zeruhn Mines at (D - 7)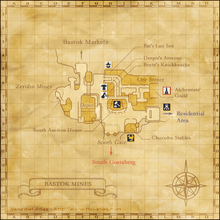 Obtaining the Bastok Mines map
Quests Started Here
NPCs Found Here
|}|}
Community content is available under
CC-BY-SA
unless otherwise noted.