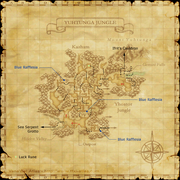 Walkthrough
Peddlestox only appears on Windsday at 0:00 at (H-6) in Yuhtunga Jungle.
She will ask you to bring her four items. They are all Rare/Ex, and can be very rare drops. Note: This quest will not appear in your quest log.
When you bring the items back to Peddlestox, she will tell you the location of your Treasure Box. The location is different every time.
You must stand on the exact location of the ??? for it to appear.
The ??? will appear in the location between 20:00 and 4:00.
Use a Pickaxe on the ??? and you will randomly receive a treasure item, but not necessarily the item she said you could get. Possible treasure includes 3-5 of the following and 4000 to 5000 gil:
Notes:
There are two possibilities in which the ??? will disappear:

1: After you have traded all 4 required items to Peddlestox, the ??? will only appear once, and it will disappear after 4:00 (game time) if let unclaimed, thus, it will never appear again.
2: After you have traded all 4 required items to Peddlestox, you have exited the related area/zone in which Peddlestox and the ??? reside at.

If you do not have the Elshimo Region map (available from Jeuno vendors) then Peddlestox will not give you the location of the beastman treasure, only a message about needing a map.
Game Description
Client: Peddlestox (Yuhtunga Jungle)
Summary: None
Community content is available under
CC-BY-SA
unless otherwise noted.