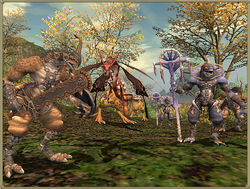 There are numerous monsters all over the world of Vana'diel. The vast majority of monsters belong to a certain Family of monsters. A family of monsters will generally possess similar traits and skills. For example, both the Beach Bunny and Variable Hare belong to the Rabbit Family and will typically possess the same abilities (i.e. Double Attack) and special attacks (i.e. Foot Kick). In addition, monsters from within a family will generally share certain behaviors and weaknesses (see Monster Classification).
Each family also belongs to a System, which generally describes the type of monster. Thus, the Rabbit Family belongs to the Beast System. Monsters from one system may possess certain advantages or disadvantages when interacting with monsters from another system. To see how each system interacts with each other, see: Ecosystems.
Certain rare and notorious monsters also inhabit the world of Vana'diel, and, if defeated, may reward the adventurer with rare and exclusive items.
Beasts

Animal System

Lizards

Reptilia System

Vermin

Insect System

Plantoids

Plant System
Aquans

Water System

Amorphs

Soft System

Birds

Bird System

Undead

Undead System
Arcana

Arcana System

Dragons

Dragon System

Demons

Demon System

Beastmen

Beastmen System
Luminians

Luminian System

Luminions

Luminion System

Empty

Promyvion System

Archaic System
Community content is available under
CC-BY-SA
unless otherwise noted.