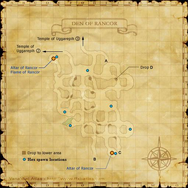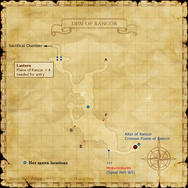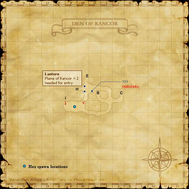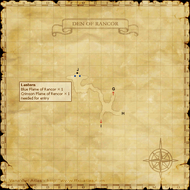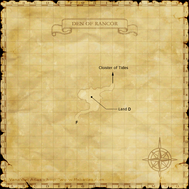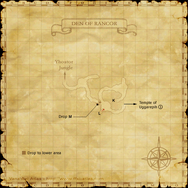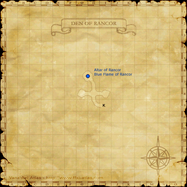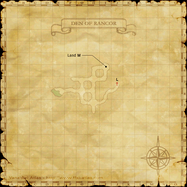 Dug by the Tonberries, this stretch of tunnel extends deep beneath the Temple of Uggalepih. It is said that the Tonberries chanted curses while digging, and that these curses still remain, embedded within the walls of the caves. Every night, the Tonberries gather here to pledge their hatred towards the five races of Vana'diel. They inflict cuts upon themselves and pour their blood onto altars, hence strengthening their rancor.

This area is only accessible if the Rise of the Zilart expansion is installed.

Connecting Areas

Note: Many connections require that a door first be opened by lighting a number of Lanterns. Each Lantern must be lit by a particular flame--Rancor Flame (yellow), Flame Of Crimson Rancor or Blue Flame of Rancor--each of which can be obtained by trading an Unlit Lantern to a particular Altar of Rancor.
Involved in Quests/Missions
Notorious Monsters Found Here
Name

Level

Drops

Steal

Family

Spawns

Notes

Bistre-hearted Malberry
Tonberry
1
A, L, S
Carmine-tailed Janberry
66-67
Tonberry
1
A, L, S
Celeste-eyed Tozberry
Tonberry
1
A, L, S
Friar Rush
70
Bomb
Hakutaku
85
Hecteyes
1
A, H
Mimic
Mimics
1
A, H, M
Mokumokuren
80-82
Hecteyes
1
A, H
Ogama
Doomed
1
A, H, HP
Rancor Torch
Bomb
1
A, S, M
Sozu Bliberry
65
Tonberry
1
A, L, S
Tawny-fingered Mugberry
Tonberry
1
A, L, S
Tonberry Decapitator
72
Tonberry
1
A, L, T(S)
Tonberry Pontifex
75
Tonberry
1
A, L, T(S)
Tonberry Tracker
72-74
Tonberry
1
A, L, T(S)

A = Aggressive; NA = Non-Aggresive; L = Links; S = Detects by Sight; H = Detects by Sound;
HP = Detects Low HP; M = Detects Magic; Sc = Follows by Scent; T(S) = True-sight; T(H) = True-hearing
JA = Detects job abilities; WS = Detects weaponskills; Z(D) = Asleep in Daytime; Z(N) = Asleep at Nighttime
Mobs Found Here
Name

Level

Drops

Steal

Family

Spawns

Notes

Bifrons
68 - 70
Bomb
6
A, S, M
Bloodsucker
58 - 60
Leech
Fished Up.
A, H
Bullbeggar
78 - 80
Opo-opo
26
A, L, S
Cave Worm
61 - 64
Worm
13
L, H
Cutlass Scorpion
68 - 70
Scorpion
2
A, H, Sc
Den Scorpion
79 - 81
Scorpion
8
A, H, Sc
Dire Bat
60 - 63
Giant Bats
86
A, L, H
Doom Toad
79 - 81
Doomed
9
A, H, HP
Fire Elemental
70 - 72
Elemental
4
M
Million Eyes
73 - 76
Hecteyes
21
A, H
Mousse
64 - 67
Slime
48
A, H, Sc
Mousse
64 - 70
Slime
Fished Up.
A, H, Sc
Puck
74 - 77
Mandragora
23
A, L, H
Razorjaw Pugil
53 - 55
Pugil
Fished Up.
A, H
Rock Crab
53 - 55
Crab
Fished Up.
A, H
Stygian Pugil
63 - 65
Pugil
15
A, H
Demonic Pugil
73 - 76
Pugil
15
A, H
Succubus Bats
65 - 69
Bat Trio
11
A, L, H
Tonberry Beleaguerer
66 - 69
Tonberry
23
A, L, S
Tonberry Imprecator
62 - 64
Tonberry
12
A, L, S
Tonberry Slasher
67 - 69
Tonberry
37
A, L, S
Tonberry Trailer
62 - 65
Tonberry
17
A, L, S
Tonberry's Elemental
Elemental
Tormentor
75 - 79
Lizard
31
L, H
Water Elemental
68 - 73
Elemental
3
M

A = Aggressive; NA = Non-Aggresive; L = Links; S = Detects by Sight; H = Detects by Sound;
HP = Detects Low HP; M = Detects Magic; Sc = Follows by Scent; T(S) = True-sight; T(H) = True-hearing
JA = Detects job abilities; WS = Detects weaponskills; Z(D) = Asleep in Daytime; Z(N) = Asleep at Nighttime