Job:
Family: Manticore
Crystal: Wind
Weak to: Water
Notorious Monster
Zone

Level

Drops

Steal

Spawns

Notes

80

1

A, S, Sc

A = Aggressive; NA = Non-Aggresive; L = Links; S = Detects by Sight; H = Detects by Sound;
HP = Detects Low HP; M = Detects Magic; Sc = Follows by Scent; T(S) = True-sight; T(H) = True-hearing
JA = Detects job abilities; WS = Detects weaponskills; Z(D) = Asleep in Daytime; Z(N) = Asleep at Nighttime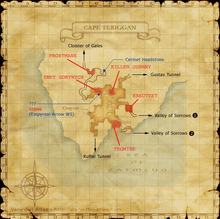 Notes:
Lottery Spawn from the Greater Manticore along the beach at G-5 - G-6 approximately every hour.
Killable by: 6 characters level 70.
Soloed by a Ninja level 75.
Historical Background
Frostmane is apparently based on Hrímfaxi from Norse mythology. Hrimfaxi is the steed of Nott, goddess who is the personification of the night. Hrimfaxi is a horse who pulls her chariot around. It is he who covers the grass with dew or frost early in the morning. Hrimfaxi is Old Norse for "frost-mane".
Community content is available under
CC-BY-SA
unless otherwise noted.