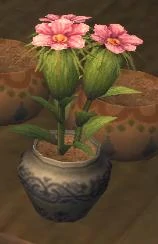 Technically a fruit called caryopsis, grains are a staple food of most regions. Whether cooked into a creamy risotto, or wrapped into a beautiful sushi presentation, grains have many uses. These starch filled wonders are often the base of many delicious dishes.
Grain seeds are one of the fastest growing plants, often taking only a couple days to reach full germination. Many times, you will be able to plant in the morning, and fertilize it with a crystal by nighttime. This is also the seed used to create Tarutaru Rice, which is used in sushi, one of the more popular foods for melee jobs.
Grain seeds' growing time is approximately three days, and the moon cycle is approximately three days; i.e., plant near Vana'diel full moon for a harvest near the full moon. Grain seeds are thought to have a fire elemental affinity.

This plant will grow from a small plant to three full grain pods in a very short period of time, so be sure to check your plant daily to prevent wilting.
Following are the possible results when planting Grain Seeds. Results will vary depending on many variables, the following chart will show the commonly accepted "recipes".
Please Be Aware
Please Note: This table of recipes is what is currently harvestable on Eden, NOT what is listed on the main wiki. Hopefully in time as more information is gathered, this will highlight any items that should be harvestable but may be bugged or not implemented. Please feel free to contribute with your harvesting findings if you wish.

Also Note: The 3 flowerpots from each starter city - brass/ceramic/earthen, all appear to be working the same as each other and should all yield the same results. According to bug report #1521 on github, arcane flowerpots appear to be yielding inaccurate amounts and should be used with caution. It is currently unknown what the yield rate of porcelain or wooden pots is. Please feel free to contribute if you have evidence to prove otherwise.
Recipes