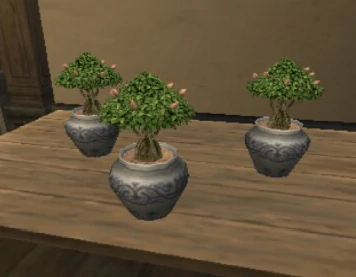 These trees do not grow to be full size trees, they are more comparable to a typical Bonsai tree. Strangely, they can't be found in the wilds of Vana'diel. Instead, to obtain these they need to be grown via the hobby gardening. They may be harvested from tree cuttings and from themselves.
Tree saplings differ from flowering plants as they have 2 feeding periods instead of just one. This results in tree Saplings taking approximately 21-30 earth days from planting to harvest, depending on which flowerpot and crystal is used.

Tree Saplings are thought to have a dark elemental affinity.

Following are the possible results when planting tree saplings. Results will vary depending on many variables, the following chart will show the commonly accepted "recipes".
Please Be Aware
Please Note:
This table of recipes is what is currently harvestable on Eden, NOT what is listed on retail wiki. Hopefully in time as more information is gathered, this will highlight any items that should be harvestable but may be bugged or not implemented. Please feel free to contribute with your harvesting findings if you wish.
Although it may look bare, there is gardening yield data on this page! It unfortunately takes a long time to harvest Tree Saplings and with so many combinations, we need as many people contributing to this as possible.
Also Note: The 3 flowerpots from each starter city - brass/ceramic/earthen, all appear to be working the same as each other and should all yield the same results. According to bug report #1521 on github, arcane flowerpots appear to be yielding inaccurate amounts and should be used with caution. It is currently unknown what the yield rate of porcelain or wooden pots is. Please feel free to contribute if you have evidence to prove otherwise.
First Feeding: No Crystal
---
First Feeding: Fire Crystal
As per github bug report #2445, this recipe should yield 20-50 cinmnamon however it is currently only yielding 1.
---
First Feeding: Earth Crystal
---
First Feeding: Water Crystal
---
First Feeding: Wind Crystal
---
First Feeding: Ice Crystal
---
First Feeding: Lightning Crystal
---
First Feeding: Light Crystal
---
First Feeding: Dark Crystal
---