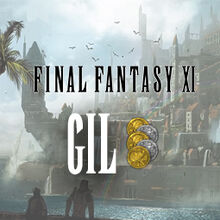 This is the standard currency of Vana'diel. It is obtained in a number of ways:
The most common way to obtain gil is by selling unwanted/unneeded items at the Auction House. See Farming.
Similarly you can put items up for sale in your Bazaar, or you can simply trade items to other players for a mutually agreed upon price.
Some players sell services, such as teleport, to other players in exchange for gil.
Dropped by beastmen (including enemies such as Fomors and qutrub) when they are defeated. Amount dropped increases with the level of the enemy. It is usually a relatively small amount.
Dropped by some NMs throughout the game. They have the potential to drop pretty decent amounts.
Treasure chests and coffers may contain gil upon being opened. Amount tends to increase based upon the level of the area it is found in.
Thieves can Mug beastmen and some NMs for gil. Typically Mug yields insignificant amounts, although some NMs can potentially give a good few thousand. Once again, the higher the monster's level, the higher the possible amount you can Mug.
Some Quests and Missions have gil rewards. Missions can give very good gil rewards when you reach the higher ranks for the three main cities.
Merchants will buy most items from you. This tends to be a very poor source of gil, although some "junk" items and other things can sometimes be sold to a merchant for as much or more than the Auction House.
You start the game with 10 gil.
Once you have gil there are a number of useful ways to spend it:
Buy needed items at the Auction House.
Buy items from other players' Bazaars.
Buy services from other players.
Buy items from NPC

shops

.
Vana'diel has a thriving economy which can be subject to inflation and deflation just as real life economies can.
Abbreviations: g = 1 gil, k = 1,000 gil, mil(m) = 1,000,000 gil