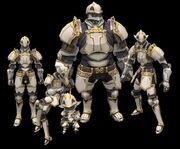 A set of plate armor with the same appearance as the Iron Musketeers' custom armor. This set is crafted largely of gold and cermet, and offers high defense, vitality bonuses, and dark resistance. The high quality version of this set is the Gilt Cuirass Set.

Number of Pieces: 5

Cost to store: Cannot be stored!

Set Summary
Historical Background
A cuirass (from the Latin coriaceus, meaning made of leather, and further from the Latin word corium which was a leather breastplate), is the plate armor formed of a single piece of metal or other rigid material or composed of two or more pieces, which covers the front of the wearer's person. In a suit of armor, however, since this important piece was generally worn in connection with a corresponding defence for the back, the term cuirass commonly is understood to imply the complete body-armor, including both the breast and the back plates. Thus this complete body armor appears in the Middle Ages frequently to have been described as a pair of plates. A related item, the Corselet, is a comparatively light cuirass.
Community content is available under
CC-BY-SA
unless otherwise noted.