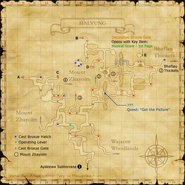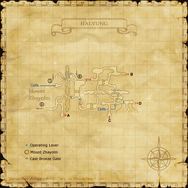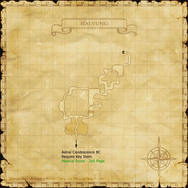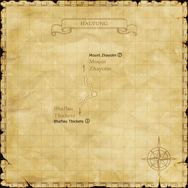 Surrounding the base of Mount Zhayolm, the city of Halvung is a military fortification built by the Troll Mercenaries. While defensive foundations and mercenary barracks constructed from heat-resistant materials can be found above the surface, the bulk of Halvung is concentrated underground. The subterranean complex is favored by the mercenaries' employers--a faction of Moblins that splintered from Movalpolos in the distant past. The design of Halvung was based on the mobile homeland of the Moblins, with several modifications to allow for the towering frames of the Trolls. The location of Halvung also brings other benefits--cast metal and jewelry crafted using the abundant geothermal energy of the volcano provide a valuable source of black market income.

This area is only accessible if the Treasures of Aht Urhgan expansion is installed and The Road to Aht Urhgan quest is completed.
Connecting Areas
Involved in Quests/Missions
Notorious Monsters Found Here
Mobs Found Here
Name
Level
Drops
Steal
Family
Spawns
Notes
Antares
Unknown
Scorpion
Black Pudding
73 - 75
Black Pudding
A, S
Dahak
Unknown
Dragon
A, S
Earth Elemental
Unknown
Elemental
M
Ebony Pudding
Unknown
Black Pudding
A, S
Fire Elemental
Unknown
Elemental
M
Friar's Lantern
73 - 76
Bomb
A, S, M
Magmatic Eruca
71 - 75
Crawler
A, H
Moblin Billionaire (RDM)
76 - 77
Moblin
A, L, S
Moblin Millionaire (WHM)
70 - 75
Moblin
A, L, S
Purgatory Bat
70 - 72
Giant Bat

3
Respawn:16 minutes

A, H
Qiqirn Diamantaire (THF)
72 - 73
Qiqirn

1
Respawn: 16 minutes

Qiqirn Mercenary (RNG)
71 - 73
Almond
Qiqirn
Troll Artilleryman (RNG?)
Unknown
Troll
A, S
Troll Cameist (RDM)
72 - 75
Troll
A, S
Troll Combatant (DRK)
Unknown
Troll
A, S
Troll Cuirasser
Unknown
Troll
A, T(S)
Troll Engraver (PUP)
72 - 75
Troll
A, S
Troll Gemologist (PLD)
71 - 71
Troll
A, S
Troll Grenadier
Unknown
Troll
A, T(S)
Troll Ironworker (WAR)
Unknown
Troll
A, S
Troll Lapidarist (DRK)
74 - 74
Troll
A, S
Troll Machinist
Unknown
Troll
A, S
Troll Scrimer
Unknown
Troll
A, T(S)
Troll Smelter
Unknown
Troll
A, S
Troll Stoneworker
72 - 74
Troll
A, S
Troll Targeteer
Unknown
Troll
A, T(S)
Troll's Automaton
70 - 72
Automaton
Volcanic Bats
70 - 71
Bat Trio
A, H
Wamoura
77 - 80
Wamoura
A, T(H)
Wamouracampa
73 - 76
Wamoura

A = Aggressive; NA = Non-Aggresive; L = Links; S = Detects by Sight; H = Detects by Sound;
HP = Detects Low HP; M = Detects Magic; Sc = Follows by Scent; T(S) = True-sight; T(H) = True-hearing
JA = Detects job abilities; WS = Detects weaponskills; Z(D) = Asleep in Daytime; Z(N) = Asleep at Nighttime
Community content is available under
CC-BY-SA
unless otherwise noted.