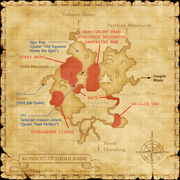 These vast grasslands are situated just to the north of the Republic of Bastok. In contrast to the surrounding Bastok Mountains, the Konschtat Highlands are abundant with an array of alpine wildlife. Also, in order to harness the powerful winds called "Odin's Wrath" that constantly blow through the area, Bastok has constructed numerous windmills throughout the highlands. According to a treaty, San d'Oria provides a portion of their grain crops in exchange for the use of Bastok's windmills to produce flour.
Connecting Areas
Alternate Arrival Methods
Involved in Quests/Missions
Notorious Monsters Found Here
Name

Level

Drops

Steal

Family

Spawns

Notes

Bendigeit Vran
14 - 14
Shadow
18:00~6:00 New Moon
A, L
Forger
33 - 33
Bomb
A, S, M
Goblin Archaeologist
30 - 75
Goblin
A, L, S
Haty
14
Hound
18:00~6:00 Full Moon
A, L, H, HP
Rampaging Ram
27 - 28
Ram
A, S, Sc
Steelfleece Baldarich
55 - 56
Ram
A, S
Stray Mary
19 - 20
Sheep
L, S, Sc

A = Aggressive; NA = Non-Aggresive; L = Links; S = Detects by Sight; H = Detects by Sound;
HP = Detects Low HP; M = Detects Magic; Sc = Follows by Scent; T(S) = True-sight; T(H) = True-hearing
JA = Detects job abilities; WS = Detects weaponskills; Z(D) = Asleep in Daytime; Z(N) = Asleep at Nighttime
Mobs Found Here
Community content is available under
CC-BY-SA
unless otherwise noted.