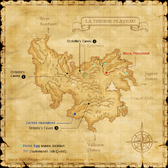 The grasslands that make up the La Theine Plateau are located high above the surrounding areas. Once known for the flocks of wild chocobos that dotted the meadows, the plateau is now overrun with giant sheep that are herded by the local Elvaan. The area is also characterized by deep crevices that seem to tear apart the land; torrential rainfall is also common. As a result of the heavy precipitation, rainbows can frequently be spotted while traveling through the plateau.
Connecting Areas
Alternate Methods of Arrival
If you see a quest that is listed as Yes but is not working properly please report it on GitHub. Make sure to list as many details as possible when describing what is not working. If there happens to already be a report on that quest regarding your problem, just add your experience to that report.
Legend
Yes = Quest is in game and working
Yes but bugged = Quest is in game but not working properly and being worked on or in que to be worked on.
No = Not in game yet but is planned
Involved in Quests/Missions
Notorious Monsters Found Here
Mobs Found Here