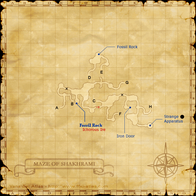 This natural labyrinth was formed long ago, when water from the rivers above seeped through the crust and ate away at the rocks below. The fossils of great ancient beasts can often be found deep within this natural wonder.
Connecting Areas
Tahrongi Canyon (through zoning and Escaping)
Involved in Quests/Missions
NPCs Found Here

Name
Location
Type
  

Ahko Mhalijikhari

Quest NPC

Coffer/Chest Contents

Chests
Shakhrami Chest Key
  

Gil: 2,430-3,180


Magical Pattern

*


Onyx




* Only available if you have the necessary quest active.

Notorious Monsters Found Here
Argus | Dark Elemental | Ichorous Ire | Leech King | Wyrmfly
Name

Level

Drops

Steal

Family

Spawns

Notes

36-37

1
Respawn: 18-30 hr

A, H

Strange Apparatus

??

1

M

Spawned
Quest

35-36

1

A, H, Sc

Leech King (NM)

35-36

1




Respawn: 18-30 hr

A, L, H, Sc

Spawned
Quest

??

3

L, H

A = Aggressive; NA = Non-Aggresive; L = Links; S = Detects by Sight; H = Detects by Sound;
HP = Detects Low HP; M = Detects Magic; Sc = Follows by Scent; T(S) = True-sight; T(H) = True-hearing
JA = Detects job abilities; WS = Detects weaponskills; Z(D) = Asleep in Daytime; Z(N) = Asleep at Nighttime
Mobs Found Here
Name

Level

Drops

Steal

Family

Spawns

Notes

27-30

18

A, L, H

26-29

29

A, L, H

22-25

31

L, H, Sc

29-31

8

A, L, H, Sc

20-23

22

L, H

During Wind Weather

33-36

4

M

During Earth Weather

33-36

4

M

22-26

25

A, H, HP

16-18

14

A, L, S

16-18

14

A, L, S

31-34

6

A, L, S

22-26

7

A, L, S

22-26

7

A, L, S

22-26

7

A, L, S

31-34

6

A, L, S

Goblin Pathfinder's Pet

24-26

6

H

30-34

6

A, L, S

31-34

6

A, L, S

16-18

14

A, L, S

26-28

11

A, H, Sc

30-33

11

A, L, H, Sc

18-21

20

L, H

25-28

9

A, L, H, Sc

10 minute respawn

24-28

38

L, H, Sc

29-31

5

A, H, Sc

23-26

21

A, L, H

15-18

25

L, H

24-28

16

A, H, HP

32-35

18
Respawn: 12 min

A, H, HP

32-36

18
Respawn: 12 min

A, H, HP

A = Aggressive; NA = Non-Aggresive; L = Links; S = Detects by Sight; H = Detects by Sound;
HP = Detects Low HP; M = Detects Magic; Sc = Follows by Scent; T(S) = True-sight; T(H) = True-hearing
JA = Detects job abilities; WS = Detects weaponskills; Z(D) = Asleep in Daytime; Z(N) = Asleep at Nighttime