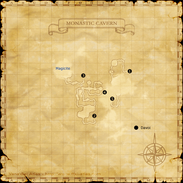 Deep within the recesses of the Orcish stronghold of Davoi is the Monastic Cavern, home to the leaders of the Orcs. The old peaceful Elvaan monastery, which used to welcome travelers from far and wide, is now dangerous for any and all adventurers to even step foot in.
Connecting Areas
If you see a quest that is listed as Yes but is not working properly please report it on GitHub. Make sure to list as many details as possible when describing what is not working. If there happens to already be a report on that quest regarding your problem, just add your experience to that report.
Legend
Yes = Quest is in game and working
Yes but bugged = Quest is in game but not working properly and being worked on or in que to be worked on.
No = Not in game yet but is planned
Involved in Quests/Missions
NPCs Found Here

Thunder
Water

Elemental Maps
Notorious Monsters Found Here
Mobs Found Here
Name

Level

Drops

Steal

Family

Spawns

Notes

Orcish Bowshooter
42 - 46
Orc

8

A, L, S, Sc

Orcish Champion
69 - 72
Orc

16
Respawn:16 minutes

A, L, S, Sc

Orcish Dragoon
69 - 72
Orc

15
Respawn:16 minutes

A, L, S, Sc

Orcish Dreadnought
69 - 72
Orc

18
Respawn:16 minutes

A, L, S, Sc

Orcish Farkiller
69 - 71
Orc

17
Respawn:16 minutes

A, L, S, Sc

Orcish Footsoldier
43 - 49
Orc

8

A, L, S, Sc

Orcish Gladiator
44 - 49
Orc

8

A, L, S, Sc

Orcish Predator
53 - 57
Orc

20

A, L, S, Sc

Orcish Protector
70 - 72
Orc

4

A, L, S, Sc

Orcish Trooper
45 - 49
Orc

8

A, L, S, Sc

Orcish Veteran
52 - 56
Orc

20

A, L, S, Sc

Orcish Warchief
55 - 59
Orc

20

A, L, S, Sc

Orcish Zerker
54 - 58
Orc

20

A, L, S, Sc

A = Aggressive; NA = Non-Aggresive; L = Links; S = Detects by Sight; H = Detects by Sound;
HP = Detects Low HP; M = Detects Magic; Sc = Follows by Scent; T(S) = True-sight; T(H) = True-hearing
JA = Detects job abilities; WS = Detects weaponskills; Z(D) = Asleep in Daytime; Z(N) = Asleep at Nighttime