I have managed to make the NPC Infobox template work! It works with Retail Wiki and NOT our 'era'. If you use the era pages, they seem to break the templates. Just a matter of copying the data over from retail wiki, and editing out the 'out of era information' as you go along, which on NPC's is usually not too much thankfully.
Below is an example and the template itself. See the source code.
---
Template

This NPC is missing a picture. You can help by adding it.
NPC Infobox Template
---
Example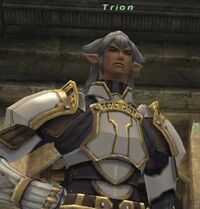 Trion
Notes
Trion (aka "Raillefal") is the eldest son of King Destin. He and his brother Pieuje are fierce rivals, and will disagree on almost anything. His sister is Claidie
Starts Missions
Starts Quests
Community content is available under
CC-BY-SA
unless otherwise noted.