The subterranean city of Movalpolos was dug and built by a tribe of Goblins referred to as the Moblins. Due to the nomadic nature of most Goblins, it is extremely rare for any of these beastmen to reside together in one place, making this community extremely unique. The Moblins are known for their exceptional smithing and alchemy skills. Their achievements include complex drilling apparatuses and floodlights, as well as several advancements in exotic fields such as bionics. It is even rumored that their ability in these areas matches or exceeds that of the scientists in Bastok.

As the Moblins drill through Vana'diel's crust, they are constantly moving their homes, water tanks, and scaffolding. This continuous advancement of Movalpolos makes it difficult to locate the city at any one time. While there are some Moblins who emerge to the surface to sell ores mined from the rock that surrounds their city, most of the tribe's members have cut themselves off from the outside world. This isolation has resulted in a lack of information regarding the city, even among other Goblins.

Why have the Moblins chosen this life underground, and why do they continue to move...?

This area is only accessible if the Chains of Promathia expansion is installed.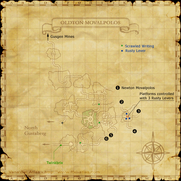 Connecting Areas
Gusgen Mines:

D-3

Newton Movalpolos:

I-12

,

J-8

,

J-12

,

K-9

,

L-10

,

L-11

North Gustaberg:

E-11

,

E-13

, Escape
If you see a quest that is listed as Yes but is not working properly please report it on GitHub. Make sure to list as many details as possible when describing what is not working. If there happens to already be a report on that quest regarding your problem, just add your experience to that report.
Legend
Yes = Quest is in game and working
Yes but bugged = Quest is in game but not working properly and being worked on or in que to be worked on.
No = Not in game yet but is planned
Involved in Quests/Missions
NPCs Found Here

Coffer/Chest Contents

Chests
Oldton Chest Key
Chests

Gil: 6,320

Onyx

**Always obtained first, if the character opening the chest does not have the map.

Notorious Monsters Found Here
Name

Level

Drops

Steal

Family

Spawns

Notes

Spawned: Quest

Unknown

1

A, L, S

Spawned: Quest

Unknown

4

A, L

50-52

2

A, L, S

Spawned: Quest

Unknown

1

A, L

Spawned: Quest

Unknown

2

A, L

50-55

1

A, L

Spawned: Quest

Unknown

1

A, L

A = Aggressive; NA = Non-Aggresive; L = Links; S = Detects by Sight; H = Detects by Sound;
HP = Detects Low HP; M = Detects Magic; Sc = Follows by Scent; T(S) = True-sight; T(H) = True-hearing
JA = Detects job abilities; WS = Detects weaponskills; Z(D) = Asleep in Daytime; Z(N) = Asleep at Nighttime
Mobs Found Here
Name

Level

Drops

Steal

Family

Spawns

Notes

Fished up

34-36

1

A, H

40-45

8

A, S, M, R

Fished up

20-24

1

A, H

42-45

11

A, L, S

32-35

13

A, L

Fished up

25-29

1

A, H

31-35

14

L, H

During earth weather

45-50

5

M

Fished up

25-29

1

A, H

33-36

9

A, L, S

43-44

4

A, L, S

45-46

2

A, L, S

33-36

7

33-36

8

A, L, S

33-36

6

A, L, S

42-43

4

A, L, S

42-43

2

A, L, S

42-43

2

A, L, S

28-37

8

H

45

1

A, L, S

33-36

9

A, L, S

43-44

4

A, L, S

43-44

4

A, L, S

46-47

2

A, L, S

33-36

8

A, L, S

43-44

5

A, L, S

33-36

9

A, L, S

42-43

4

A, L, S

41-43

4

A, L, S

33-36

9

A, L, S

Snipper Fished up

20-24

1

A, H

33-36

11

L

During thunder weather

45-50

4

M

A = Aggressive; NA = Non-Aggresive; L = Links; S = Detects by Sight; H = Detects by Sound;
HP = Detects Low HP; M = Detects Magic; Sc = Follows by Scent; T(S) = True-sight; T(H) = True-hearing
JA = Detects job abilities; WS = Detects weaponskills; Z(D) = Asleep in Daytime; Z(N) = Asleep at Nighttime
|}|}