Job Overview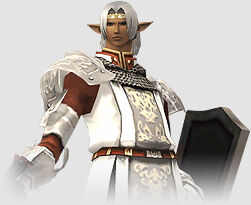 Available after completing the quests A Squire's Test, A Squire's Test II, and A Knight's Test.
Paladins (PLD) specialize in close-range combat, just like Warriors. However, through long hours of spiritual training, paladins have acquired the ability to cast White Magic spells, making them even more valuable on the battlefield. Through the use of Shield Mastery and the ability to wear the heaviest armor in the game, Paladin fills its niche as a tank specialist.
Job Abilities
Group 1 Merits
Level
 Name
Merit
 

Shield Bash Recast

Merit
 

Holy Circle Recast

Merit
 

Sentinel Recast

Merit
 

Cover Effect Length

Merit
 

Rampart Recast
Spell List
| | |
| --- | --- |
| Combat Skill Ratings | Magic Skill Ratings |
See Paladin Skill Caps for a by-level breakdown of weapon skill limits.


Artifact Equipment
Relic Set +1
Level
Relic
75
 

Valor Leggings +1

75
 

Valor Gauntlets +1

75
 

Valor Coronet +1

75
 

Valor Breeches +1

75
 

Valor Surcoat +1
Paladin Guides
Paladin: Guide by Akirus




Paladin: Guide by Willriker

Paladin: Guide to Races and Subjob Selection

Shattering Stars/Paladin

Paladin Artifact/Relic Sets Comparison