Job Overview
Out of era Eden changes
B- Hand to hand skill.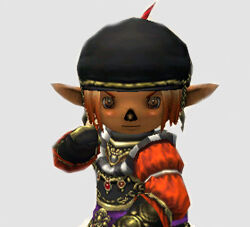 Available after completing the No Strings Attached quest, these wandering performers entertain crowds and confound their enemies with a customizable puppet known as an "automaton." This puppet uses different frames, manuevers and attachments to do a variety of different tasks. Puppetmasters can also fall back on hand-to-hand fighting skills that utilize the flexible movements of their art.
The Puppet
Pet Commands




Pet Emotes

/bow
/dance
/hurray
/point
/goodbye
/shocked
/joy
/panic
/blush
/surprised
/cheer
/clap
/salute
/wave

See Automaton/Emotes for video demonstrations.

Pet Maneuvers
Other Notes

Each time you level up Puppetmaster, ensure you Deactivate and Activate your Automaton so its new level stats will take effect.
You may have up to three (3) elemental maneuvers active at the same time.
Each maneuver lasts 1 minute.
You must have an Animator, Turbo Animator, or

Animator +1

equipped to use maneuvers.
If you toss your starting Animator, Iruki-Waraki will sell you a new one for 10,000 gil.
You must have Automaton Attachments equipped for your Automaton to receive the effects of the attachments when using elemental maneuvers corresponding to the elements of the attachments. However, you still receive slight temporary stat increases for a particular stat of the elemental maneuver if no corresponding attachment is equipped.

See Also
Combat Skill Ratings
Puppetmaster
See Puppetmaster Skill Caps for a by-level breakdown of weapon skill limits.

|  Skill | Skill Ranking | Cap at Level 1 | Cap at Level 37 | Cap at Level 75 |
| --- | --- | --- | --- | --- |
|  Melee | B- | 5 | 109 | 240 |
|  Magic | B- | 5 | 109 | 240 |
|  Ranged | B- | 5 | 109 | 240 |

|  Skill | Skill Ranking | Cap at Level 1 | Cap at Level 37 | Cap at Level 75 |
| --- | --- | --- | --- | --- |
|  Melee | A- | 6 | 114 | 269 |
|  Magic | N/A | 0 | 0 | 0 |
|  Ranged | N/A | 0 | 0 | 0 |

|  Skill | Skill Ranking | Cap at Level 1 | Cap at Level 37 | Cap at Level 75 |
| --- | --- | --- | --- | --- |
|  Melee | C+ | 5 | 105 | 230 |
|  Magic | N/A | 0 | 0 | 0 |
|  Ranged | A- | 6 | 114 | 269 |

|  Skill | Skill Ranking | Cap at Level 1 | Cap at Level 37 | Cap at Level 75 |
| --- | --- | --- | --- | --- |
|  Melee | C+ | 5 | 105 | 230 |
|  Magic | A-/A+ | 6 | 114 | 269/276 |
|  Ranged | N/A | 0 | 0 | 0 |
Artifact Equipment
Artifact Set +1
Level
Artifact
74
 
74
 
74
 
74
 
74
 

Relic Set
Level
Relic
70
 
71
 
72
 
73
 
74
 
75
 
75
 

Relic Set +1
Level
Relic
75
 
75
 
75
 
75
 
75