Job Overview
Eden Custom Change:
No Distance Correction on ranged attacks.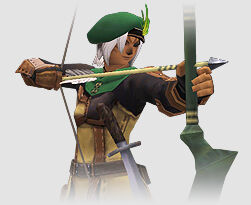 With unparalleled tracking abilities and skill with the bow and arrow, rangers are experts in the field of hunting. Available after completing the quest The Fanged One.
Combat Skill Ratings
See Ranger Skill Caps for a by-level breakdown of weapon skill limits.


Artifact Equipment
Relic Set +1
Level
Relic
75
 

Scout's Bracers +1

75
 

Scout's Braccae +1

75
 

Scout's Beret +1

75
 

Scout's Socks +1

75
 

Scout's Jerkin +1
Ranger Guides
Ranger: Guide to Races and Subjob Selection

Ranger: Shoot Your Own Ammo! - Guide to Crafting

Ranger: Hunter's Handbook by Tyson

Ranger Solo Guide