Job Overview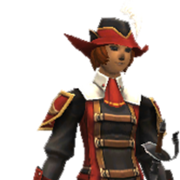 Red Mages (RDM) are called the Jack of All Trades by many, and this is an accurate description. Red Mages have the ability to cast white magic, black magic, and fight with swords and daggers. Though their healing, nuking, and fighting skills aren't as good as those of the specialists - White Mages, Black Mages, Paladins, and Thieves - they are still competent. Their real strengths lie in their enhancing and enfeebling skills when within a party, and leveraging their many "trades" against their enemies when outside of one.
Spell List
See Red Mage Spell List for where to find spells as well as other information.
| | |
| --- | --- |
| Combat Skill Ratings | Magic Skill Ratings |
See Red Mage Skill Caps for a by-level breakdown of weapon skill limits.


Artifact Equipment
Red Mage Equipment Lists
Red Mage Guides
Resources