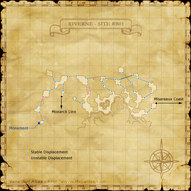 Situated on the far western tip of the main island of Tavnazia, Cape Riverne was once a peaceful meadow where one could gaze out into the Nosteau Ocean while resting in the soft breeze. However, during a recent earthquake, large chunks of the area were ripped from the ground and now float alongside the clouds above the churning sea. A Tavnazian expedition is currently investigating the area, working from only a few notes taken by Goblin explorers. This area makes up the northern half of Cape Riverne.
This is a level 50 capped area.
Connecting Areas
Misareaux Coast at (M-9) (via Spatial Displacement).
Monarch Linn at (E-8) (via Spatial Displacement).
Escapes to: Misareaux Coast (D-6)
Involved in Quests/Missions
Notorious Monsters Found Here
Mobs Found Here
Community content is available under
CC-BY-SA
unless otherwise noted.