Selbina was once a prosperous town that acted as a strategic port for the navy of Mindartia and a waypoint for travelers. But with the resurgence in the popularity of air travel, the town is slowly returning its focus to the local industry of fishing and stock farming.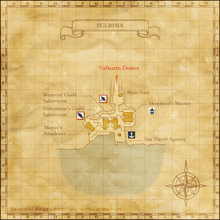 Connecting Areas
Valkurm Dunes at (H/I - 6)
Ferry - Mhaura/Selbina at (H - 10) to Mhaura
If you see a quest that is listed as Yes but is not working properly please report it on GitHub. Make sure to list as many details as possible when describing what is not working. If there happens to already be a report on that quest regarding your problem, just add your experience to that report.
Legend
Yes = Quest is in game and working
Yes but bugged = Quest is in game but not working properly and being worked on or in que to be worked on.
No = Not in game yet but is planned
Quests Started Here
NPCs Found Here