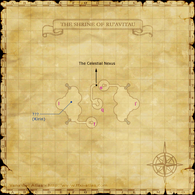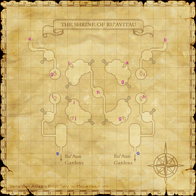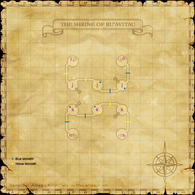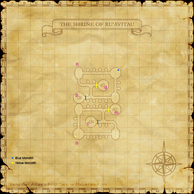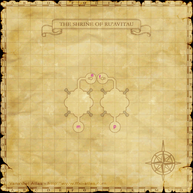 Part of the floating island of Tu'lia, constructed ten thousand years ago by the Zilart as the "Gate of the Gods" this is said to be the very entrance to paradise itself. The Shrine of Ru'Avitau makes up the core of the vast island and can be accessed from the gate at the central edifice of the Ru'Aun Gardens.
Notes
This area is most well known for its resident Notorious Monster - Kirin, master of the Shijen. He is one of the more popular high level monsters to fight. The fight can take hours and requires a lot of cooperation between players. Be careful if you're running through this area, as a group may be fighting him! This area often has blue and yellow doors blocking the way as you navigate. Devices called "Monoliths" are used to control these doors. Only one color type will be open at a time; if the blue doors are open, the yellow doors will be closed. Teleporters are used to jump around the area, the small circles on the map denote teleporters, and empty areas with letters are the destination of the teleporters. Some teleporters have more than one possible destination; you may end up at different places each time. The chances are random.
Connecting Areas
Ru'Aun Gardens at (Map 1: C-11, E-4, H-12, K-4, M-11; Map 2: E-12, K-12)
Celestial Nexus at (H-7)
Escapes to: Ru'Aun Gardens (H-11)
If you see a quest that is listed as Yes but is not working properly please report it on GitHub. Make sure to list as many details as possible when describing what is not working. If there happens to already be a report on that quest regarding your problem, just add your experience to that report.
Legend
Yes = Quest is in game and working
Yes but bugged = Quest is in game but not working properly and being worked on or in que to be worked on.
No = Not in game yet but is planned
Involved in Quests/Missions
NPCs Found Here
Notorious Monsters Found Here
Name

Level

Drops

Steal

Family

Spawns

Notes

83-85

1
Respawnable: ~4-6 hours

A, M

Spawned

92

1

A, L, T

Kirin's Pet

??

1
Summoned by Kirin

A, T

Kirin's Pet

??

1
Summoned by Kirin

A, T

Kirin's Pet

??

1
Summoned by Kirin

A, T

Kirin's Pet

??

1
Summoned by Kirin

A, T

Kirin's Pet

??

Avatar

1
Summoned by Kirin

A, L

??

1
Respawnable: ~4-6 hours

A, H, M

Mother Globe's Pet

??

6
Summoned by Mother Globe

A, H, M

Spawned

83

1
Respawnable: ~15 min

A, M

Spawned

83

1

A, M

Spawned

85

1

A, M

Spawned

85-87

1

A, S, M

A = Aggressive; NA = Non-Aggresive; L = Links; S = Detects by Sight; H = Detects by Sound;
HP = Detects Low HP; M = Detects Magic; Sc = Follows by Scent; T(S) = True-sight; T(H) = True-hearing
JA = Detects job abilities; WS = Detects weaponskills; Z(D) = Asleep in Daytime; Z(N) = Asleep at Nighttime
Mobs Found Here
Name

Level

Drops

Steal

Family

Spawns

Notes

77-82

47

A, M

75-80

38
Respawn: ~16 min

A, M

79-84

40
Respawn: ~16 min

A, S, M

80-82

70

A, H, M

79-81

53
Respawn: ~16 min

A, H, M

??

30

A, H, M

73-74

4
No weather
requirement

M

73-74

4
No weather
requirement

M

73-74

4
No weather
requirement

M

73-74

4
No weather
requirement

M

73-74

4
No weather
requirement

M

73-74

4
No weather
requirement

M

73-74

4
No weather
requirement

M

73-74

4
No weather
requirement

M

A = Aggressive; NA = Non-Aggresive; L = Links; S = Detects by Sight; H = Detects by Sound;
HP = Detects Low HP; M = Detects Magic; Sc = Follows by Scent; T(S) = True-sight; T(H) = True-hearing
JA = Detects job abilities; WS = Detects weaponskills; Z(D) = Asleep in Daytime; Z(N) = Asleep at Nighttime