Zone

Level

Drops

Steal

Spawns

Notes

65-66

1

A, L, S

A = Aggressive; NA = Non-Aggresive; L = Links; S = Detects by Sight; H = Detects by Sound;
HP = Detects Low HP; M = Detects Magic; Sc = Follows by Scent; T(S) = True-sight; T(H) = True-hearing
JA = Detects job abilities; WS = Detects weaponskills; Z(D) = Asleep in Daytime; Z(N) = Asleep at Nighttime
Notes: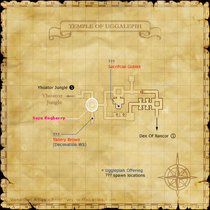 Lottery spawn from the Tonberry Pursuer at G-8; the NM spawns inside the room at G-8, with a widely varying respawn timer.

Enter Temple of Uggalepih from Yhoator Jungle at the north side of J-9
Tonberry Pursuer has a 16 minute respawn time.

Killable by: 5 characters level 62; 2 characters level 70; 1 level 72. It is recommended though to be level 74 with Ninja subjob for Utsusemi: Ni.
Special Attacks: Perfect Dodge, Throat Stab, Everyone's Grudge, Light of Penance, Sigh, Words of Bane
Has approximately 7000 HP.
Drops around 3000 gil
Community content is available under
CC-BY-SA
unless otherwise noted.