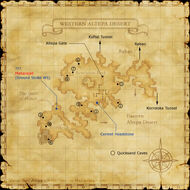 This enormous expanse of desert covers the entire western half of Zepwell Island. Out of its center rises Revelation Rock, which was once used by the Galka as a location for spiritual training. To the northeast, one can find the largest oasis of the desert-Rabao.
Connecting Areas
If you see a quest that is listed as Yes but is not working properly please report it on GitHub. Make sure to list as many details as possible when describing what is not working. If there happens to already be a report on that quest regarding your problem, just add your experience to that report.
Legend
Yes = Quest is in game and working
Yes but bugged = Quest is in game but not working properly and being worked on or in que to be worked on.
No = Not in game yet but is planned
Involved in Quests/Missions
Notorious Monsters Found Here
Name

Level

Drops

Steal

Family

Spawns

Notes

56

1

A, H

47-48

1

A, L

Unknown

80-85(?)

1 (?)

A,L,T(H)

Unknown

1

A

Unknown

1

Unknown

A = Aggressive; NA = Non-Aggresive; L = Links; S = Detects by Sight; H = Detects by Sound;
HP = Detects Low HP; M = Detects Magic; Sc = Follows by Scent; T(S) = True-sight; T(H) = True-hearing
JA = Detects job abilities; WS = Detects weaponskills; Z(D) = Asleep in Daytime; Z(N) = Asleep at Nighttime
Mobs Found Here
Name

Level

Drops

Steal

Family

Spawns

Notes

Antican Eques
45 - 49
Antica

5
Respawn:5 minutes

A, L, H, Sc

Antican Essedarius
41 - 45
Antica

8
Respawn:5 minutes

A, L, H, Sc

Antican Hoplomachus
54 - 58
Antica

29
Respawn:5 minutes

A, L, H, Sc

Antican Lanista
54 - 58
Antica

40
Respawn:5 minutes

A, L, H, Sc

Antican Retiarius
45 - 49
Antica

12
Respawn:5 minutes

A, L, H, Sc

Antican Secutor
54 - 58
Antica

25

A, L, H, Sc

Apsaras
40 - 42
Pugil

Fishing

A, H

Bigclaw
45 - 52
Crab

Fishing

A, H

Cactuar
48 - 53
Sabotender

37
Respawn:5 minutes

A, H

Desert Beetle
47 - 51
Beetle

100

L, S, Sc

Desert Dhalmel
44 - 48
Dhalmel

23
Respawn:5 minutes

L, S, Sc

Desert Manticore
53 - 57
Manticore

16
Respawn: 5 minutes

A, S, Sc

Desert Spider
40 - 44
Spider

30
Respawn:5 minutes

L, H

Desert Worm
43 - 47
Worm

24
Spawns:Night
Respawns:5 minutes

A, H

Earth Elemental
56 - 58
Elemental

6

M

Fallen Knight
50 - 54
Skeleton

9
Spawns During: Nighttime
Respawn:5 minutes

A, H, HP

Fire Elemental
56 - 58
Elemental

6

M

Goblin Bouncer
51 - 55
Goblin

2
Respawn:5 minutes

A, L, S

Goblin Digger
51 - 54
Goblin

1

A, L, S

Goblin Enchanter
51 - 55
Goblin

2
Respawn:5 minutes

A, L, S

Goblin Hunter
51 - 55
Goblin

2

A, L, S

Goblin Welldigger
51 - 55
Goblin

2

A, L, S

Ironshell
40 - 42
Crab

Fishing

A, H

Lich
49 - 53
Skeleton

6
Spawns During: 20:00 - 4:00

A, H, HP

Phorusrhacos
57 - 60
Roc

9

A, L, S

Razorjaw Pugil
56 - 58
Pugil

Fishing

A, H

Tulwar Scorpion
53 - 56
Scorpion

31

A, H

A = Aggressive; NA = Non-Aggresive; L = Links; S = Detects by Sight; H = Detects by Sound;
HP = Detects Low HP; M = Detects Magic; Sc = Follows by Scent; T(S) = True-sight; T(H) = True-hearing
JA = Detects job abilities; WS = Detects weaponskills; Z(D) = Asleep in Daytime; Z(N) = Asleep at Nighttime